"I remember the first mountain bike ride I went on, it was tough and I worked really hard, but it took me to a place I wasn't familiar with; serenity. When the ride was over, I thought this is pretty amazing, when can you feel so powerless yet become more powerful? That moment changed my entire life.
Leigh Donovan 
Mountain Bike 101 Skills Videos are here!
Click here to find a skill you'd like to learn – How to improve your skills!
The ichoosebikes mission and 2015:
Last year I took a risk launching ichoosebikes; a platform based on introducing more women to mountain biking and empowering them with bike skills and the knowledge on how to ride safely. After hosting clinics, events, and the first ever 3-day Mountain bike retreat in Mammoth Mountain, CA , 2014 ended as a success. Maya Angelou was quoted as saying, "success is liking yourself, liking what you do and liking how you do it."  That would sum up ichoosebikes and 2014! I know with so many great women out there sharing similar goals such as, Rebecca Rusch, Lindsey Voreis, Candace Shadley, Lindsey Beth Currier, and many other ladies, 2015 will continue to see more women mountain bikers riding confidently and hopefully those women will be introduced to a lifetime of adventure. I am living proof that anything is possible, my life has been blessed with so many wonderful gifts and I am so glad I can share one of those gifts with you.
 Happy Trails, Leigh Donovan
Why Women's Mountain Bike Clinics?
Since it's inception in the late 1970's, mountain biking has always been a male dominated sport. Over the last 20 years, Leigh has asked, "how can we introduce more women to mountain biking?" Since asking this question, Leigh found the answer…invite them! The ichoosebikes.com business is an invitation to women to come join the sport, experience the beauty of the outdoors, and to be given an opportunity to reconnect with your inner child. Leigh works with riders from first timers to professional athletes, helping them find their strengths and giving them the tools to overcome their weaknesses. Leigh hears often that women just want the experience and camaraderie of doing something with their friends which is why Leigh has teamed up with Mammoth Mountain, CA to host a 3-day women's mountain bike event each year in July. This event will help you reconnect with yourself, while becoming a better rider too. All ichoosebikes clinics are centered around finding your balance, having much laughter and overcoming fears. Try to join an ichoosebikes event near you, you won't be disappointed!
Leigh is so excited to have teamed up with Liv Cycling, SRAM, RockShox and Troy Lee Designs, and WD-40 Bike for 2015. With the support of these wonderful sponsors, Leigh and ichoosebikes are able to dedicate the time needed to support women riders in North America.
Why not work with Leigh or a professional coach? Visit her Instruction page for events in your area or check out the coaches in your area and get connected to someone near you.
For new comers, take a trip to your local retail bike shop (ask the questions from the "how to" section) and join the fun!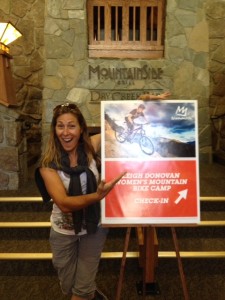 Leigh's goals for 2015 and beyond!
To educate, inspire and empower women to ride bikes with confidence and joy.
Be a positive role model, connecting women to the bike industry & cycling community.
Expose women and young girls alike to the fun and laughter you can have on a bike.
 "Let me tell you what I think of bicycling. I think it has done more to emancipate women than anything else in the world. I stand and rejoice every time I see a woman ride by on a wheel."― Susan B. Anthony