"Success is liking yourself, liking what you do and liking how you do it." 
Maya Angelou 
The Liv Hail is here! Some behind the scenes and video footage for our release – Click here to see my fly!!!
The ichoosebikes mission and 2016:
Two years ago I took a risk launching ichoosebikes; a platform based on introducing more women to mountain biking and empowering them to be more confident on their bikes. After hosting clinics across the country, working local events, and launching the first ever 3-day mountain bike retreat at Mammoth Mountain, CA , in 2014, I found that education for bikes is much needed and that riders want to learn from professionals, which is awesome. The goal this year is to help women find their best or success as Maya Angelo puts it, "Success is liking yourself, liking what you do and liking how you do it" and when we like things, we often do it more…so this year, help me grow the female participation at events, in bike sales, and more importantly in balancing out the bike industry. Come join ichoosebikes to learn something new and have fun doing it!
 Happy Trails, Leigh Donovan
Why Women's Mountain Bike Clinics?
Since it's inception in the late 1970's, mountain biking has always been a male dominated sport. Over the last 20 years, I asked, "how can we introduce more women to mountain biking?" Since asking this question, I decided to invite them! The ichoosebikes.com business is an invitation to all women (any age) to come join the sport, experience the beauty of the outdoors, and to be given an opportunity to reconnect with your inner child. I work with riders from first timers to professional athletes, helping them find their strengths and giving them the tools to overcome their weaknesses. I often hear "women just want the experience and camaraderie of doing something with their friends" which is why I have teamed up with Mammoth Mountain, CA to host a 3-day women's mountain bike event each year in July. This event will help you reconnect with yourself, while becoming a better rider too. All ichoosebikes clinics are centered around finding your balance, having much laughter and overcoming fears. Come join an ichoosebikes event near you…you won't be disappointed!
I'm so excited to have teamed up with Liv Cycling, SRAM, RockShox , WTB , Clif Bar,  WD40 Bike, CamelBak, and Troy Lee Designs, for 2016. With the support of these wonderful partners, I am able to dedicate the time needed to support women riders in North America.
Why not work with Leigh or a professional coach? Visit her Instruction page for events in your area or check out the coaches in your area and get connected to someone near you.
For new comers, take a trip to your local retail bike shop (ask the questions from the "how to" section) and join the fun!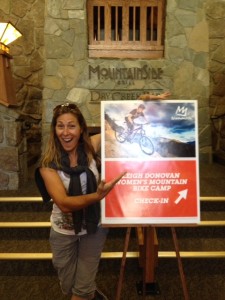 Leigh's goals for 2016 and beyond!
To educate, inspire and empower women to ride bikes with confidence and joy.
Be a positive role model, connecting women to the bike industry & cycling community.
Expose women and young girls alike to the fun and laughter you can have on a bike.
 "Let me tell you what I think of bicycling. I think it has done more to emancipate women than anything else in the world. I stand and rejoice every time I see a woman ride by on a wheel."― Susan B. Anthony