Giving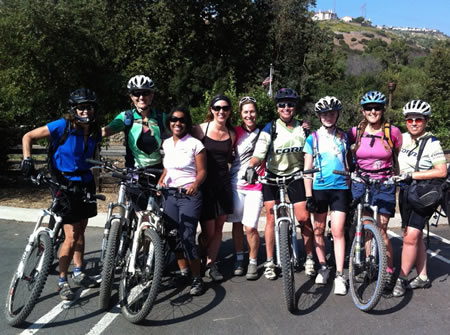 Leigh loves to give back and thanks to the support of her sponsors Liv Cycling, SRAM, Rock Shox, WD-40 and Troy Lee Designs, she is able to offer up to 8 free clinics a year to charity events around Southern California.
Leigh spends an entire day (6 hours) teaching riders how to become one with their bike. Get Leigh involved with your charity event and have her donate a clinic to your foundation. You can reach her at ichoosebikes@gmail.com
People like Wendy @ GGR (Girlz Gone Riding) who hosted an event that benefited CORBA had this to say…
"Leigh showed her generosity with her knowledge and skills in loaning her time to a women's skills clinics for CORBA as well as donating her day as a ride leader for GGR at our last annual Rocktober event with over 100 women.
I held a fundraiser for CORBA, our local chapter of IMBA, http://corbamtb.com/ at my local supporting bike shop, Cycle World Chatsworth. http://cycleworldbikes.com/. I asked Leigh to be a guest speaker at our CORBA fundraiser and to help with the silent auction to raise funds for CORBA. To my delight, she donated a women's clinic and 100% of the funds went to CORBA! The clinic was sold out in minutes once we announced it at the event. I was lucky enough to get a spot!
The women's only clinic was intimate and fun! We all stuck together, did some riding, sessioning and worked on skills such as climbing, choosing lines, switch backs and balance techniques. Leigh is a physical coach. I am a very stiff rider and really struggle descending switchbacks. She literally held the bike for me and physically assisted me through the switch back so I still got to execute the corner and was able to feel what it was like to complete the switch back.
The other element, which was very important to the girlz, was not pushing us over our mental limits of being scared. Our group were all XC girlz, not techy, DH ladies, so we were not used to riding gnarly sections. She broke a gnarly section down into sections and showed us proper and improper positions rolling over the boulders so we could see the difference. She also showed us many different lines and discussed our comfort level. Even though only 2 of the girlz tried the section, we all got to see different approaches mentally and physically to this spot. There was 0 pressure to ride it, which I really appreciated".  Wendy Engleberg, GGR